Start your A/B Testing Campaign with Xiklab!
As of 2021, there are over 4.66 billion internet users in the world. Now, how can you ensure that your ad is optimal for your target audiences?
A/B Test campaigns, also known as split testing, is one of the key features of Facebook that advertisers can use. This is the process of changing different variables of the ad to determine the better performing strategy that can help improve future campaigns. It helps media practitioners optimize their campaigns – whether in the form of audience optimization or placement optimization.
But for brands, one of the key things that can be considered, and can give impact for the campaigns, would be creative testing.
Creative testing refers to anything related to the ad itself such as having different copies, angle or approach to the material, ad formats, and even the call to action that will be used.
Ideally, there is a single differentiating variable between two materials. It can be the same image with different copy, or the same copy with different visual elements showing a product focus versus a lifestyle approach, or maybe even the same creative but in different formats such as image versus video.
However, the tests can still vary greatly from testing one single variable to two completely different approaches. To demonstrate, here is a sample from pharma company Pharex, where Xiklab tested two completely different materials.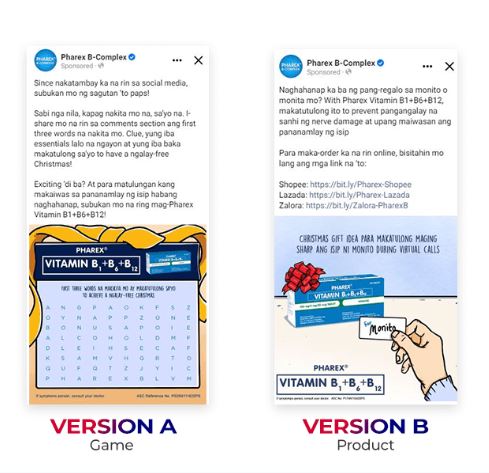 While gamified content works, the product push post generated better results and resonated more with the audience. So, the product push post wins the A/B Testing campaign.
Through these types of tests, we can identify what type of content or communication can actually generate better results. Since there are a lot of options, combinations, and even ad formats that can be tried out on an A/B Testing campaign, Xiklab prepared a Facebook Creative Playbook itemizing all the different ad units for different optimizations.
Through this document, you'll be able to see what types of specs should be considered and what types of formats or optimizations can be tried out in an A/B Testing.
If you wish to try A/B Testing campaigns on your brand storytelling, contact us at [email protected] or fill out the form below.